Due to take place next year in London at The Clapham Grand Theatre between 21st and 24th April is the London Intl Ska Festival.
The last time a festival like this was held in the English capital was back in 1988 at The Brixton Fridge and featured acts like Laurel Aitken, Bad Manners, Potato 5, The Loafers, Hotknives, The Deltones, Napoleon Solo, Capone and The Bullets and Skin Deep.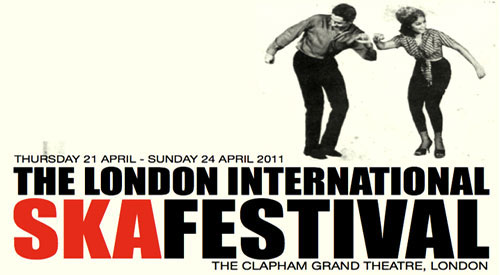 Next years festival will continue with that varied theme with many acts from around the globe that play not only traditional ska sounds but also have rocksteady and early reggae influences. The list of those appearing is now really starting to take shape and organiser Sean Floerdew has just announced that 'Mr Rocksteady' himself Ken Boothe will be there headlining the opening night, with a promise of more acts to be announced very soon, including a further four legendary Jamaican names.
Backing up these performers throughout the event will be a fine selection of DJ's including Mark Lamarr, Gaz Mayall, Jim Cox and Greedy G to name just a few.
Tickets vary in price from a whopping £1850, for groups of a maximum of 10 people in a Royal Box across all four days, to £39.50 for any single day and they are on sale now at www.londoninternationalskafestival.co.uk
The list of confirmed acts appearing so far are:
KEN BOOTHE
THE ENGLISH BEAT starring DAVE WAKELING
JAMES HUNTER
THE SKA FLAMES (Japan)
DUB PISTOLS
THE TROJANS
THE LOAFERS (one off reformation)
HOTKNIVES (original line up)
BIM SKALA BIM (USA)
MAROON TOWN
INTENSIFIED
NAPOLEON SOLO (Denmark)
THE CAROLOREGIANS (Belgium)
THE AMPHETAMEANIES (Scotland)
THE SIDEWALK DOCTORS
CARTOON VIOLENCE (Wales)
JIMMY THE SQUIRREL

Confirmed DJ line up
MARK LAMARR
GAZ MAYALL / GAZS ROCKIN BLUES
WRONGTOM
THE TIGHTEN UP CREW w/ CHAMPIAN MC
JIM COX (REGGAE TRAIN)
FELIX HALL
GREEDY G