It was only a couple of months ago or so when very active French label, Own Mission Records, was last heard from in the form of the very nice Bun Up Riddim [which just happened to feature the massive Nah Go A Jail from Echo Minott]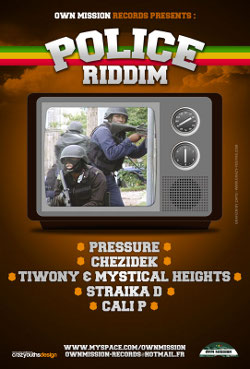 and obviously they've wasted no time to get back to work as they now return once again with a big and colourful riddim, the pounding, yet somewhat melancholy Police Riddim.
The group of artists selected to voice the Police Riddim is arguably just as eclectic as the riddim itself. There's Jamaican star Chezidek, Pressure Busspipe from out the Virgin Islands, the Guadeloupe born - Swiss grown chanter Cali P, the exceedingly Straïka D from Martinique and also a combination featuring Mystikal Heights from St. Lucia alongside one of the most talented chanters in the world, French born, Gwada raised chanter, Tiwony. And to cover all bases, there is also an ever present guest spot served by American Hip-Hop legend KRS-1.
Own Mission Records' Police Riddim is set to hit digital retailers today and may be available on 7" singles as well soon.