Following the first installment of the series, the Box Guitar Riddim which arrived back in June, Sherkhan and company at Tiger Records send out 2010 by delivering the second edition of the Riddim Zone, the Electricity Riddim.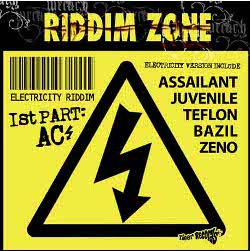 Keeping in tune with the direction of the label thus far - Where versatility is king - The Box Guitar was a definitively heavy Roots Reggae riddim, the Electricity most certainly is not. Instead, it's a kind of Hip-Hop vibed composition which may not make as great of an immediate impact on listeners as previous efforts from Tiger Records, but keen listening proves to be rewarded eventually.
Sampling the Electricity Riddim are the likes of Teflon, Zeno, Assailant, Tiger Record's 'secret weapon' Bazil and Juvenile whose Link & The Linkans takes top honours here.
Fans might also want to focus on the cover of this release which mentions "1st Part: AC". Of course, that means that a "2nd Part" is also in the works [and will reportedly reach in early 2011]. Until then, however, the Electricity Riddim from Tiger Records can be found digitally on etailers everywhere courtesy of Zojak Worldwide.