On again, off again. On again, off again. Up until now, fans outside of Holland trying to get a hold of one of the better debut albums of 2010, 'Genesis' from impressive Dutch vocalist Miakal X, were searching without much luck as, despite rumours to the contrary, the album was only available in The Netherlands and on the Dutch version of iTunes.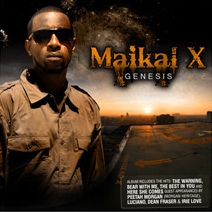 Well, after a few unfortunately long months 'Genesis' is now going global courtesy of a link between the label of its origin, big Dutch/Dutch Caribbean imprint Rock'N Vibes and industry leader VP Records.
Back in 2008 Rock'N Vibes completed a similar deal with Greensleeves for the distribution of 'In Transit', the sophomore album of Maikal X's labelmate, Ziggi Recado, so this move is neither totally unexpected, nor without precedent.
Maikal X's much discussed album 'Genesis' finally arrives in stores worldwide on February 18, 2011.