This bimonth's issue of Irie Up once again features many great articles from the world of reggae.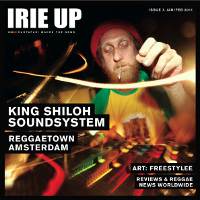 There is a look at the Reggaetown of Amsterdam where Irie Up! visits the Dutch capital and talks to King Shiloh Soundsystem, Slimmah Sound, The Inspecta and Sista Danni as well as attending the High Times Cannabis Cup where they hear that times for this famously tolerant society maybe a changing.
There is also an interview with Sista Adilisha, the operator of Cologne's Jah Vibes Soundsystem, who gives her perspective on running a soundsystem in what has traditionally been a man's world, plus the Jamaican artist Michael Thompson, who produces prints and posters about national and international struggles, talks to them about his art, politics and the inspiration behind his work. On top of all this you will also find an interview with Alpha and Omega, a photo report from the One Love festival in Wroclaw, reviews and lots more.
Irie Up has also just launched a new website.