Mungo's Hi Fi are to release their remix of Everyman Does His Thing A Little Way Different taken from the album 'Time Will Tell' by Henry and Louis meets Blue and Red (aka RSD). The vocal is by Pacey and is a reworking of the Errol Dunkley original of the same name.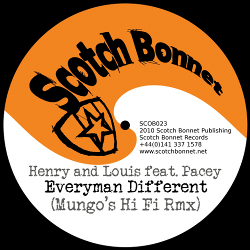 The song came about following a chance encounter with UB40 in Jamaica, who linked up a legendary recording session with top artists like Johnny Clarke, Tony Tuff and Willi Williams.
Mungo's Hi Fi have taken the vocal and crafted a one a way riddim track bringing it bang up to date in the only way they know how by adding a very heavy bass vibe to proceedings that you can feel as well as hear.
The flip side of this 180g heavyweight 12" features a dub work out by Mungo's and it will be available from the 24th of January on Scotch Bonnet records.
Check their website www.scotchbonnet.net for more details.