Following a delay filled 2010, bonafide Reggae star Etana is finally set to make her return with her much much anticipated sophomore album release, 'Free Expressions' for VP Records. You'll so often hear phrases such as "the most anticipated" or "the long awaited" in reference to specific albums, but this time it's definitely justified as 2010 saw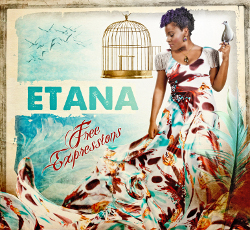 'Free Expressions' scheduled but delayed several times and with Etana's stardom seemingly peeking, fans worldwide are waiting to get their hands on the new album, particularly following her huge debut from 2008, 'The Strong One'.
'Free Expressions' features big previous singles such as Happy Heart, August Town and Free as well a whole heap of tunes which are set to be future favourites such as War, Retribution and more.The album also features production from the likes of Kemar 'Flava' McGregor of No Doubt Records and Curtis Lynch Jr. of Necessary Mayhem.
Hopefully nothing changes and fans across the globe can get their hands, physically and digitally, on what is set to be one of the biggest releases of 2011, Etana's 'Free Expressions', on February 8th.