A new website has just opened dedicated to the works of photographer and author Beth Lesser.
Beth along with her partner David Kingston first got involved with Reggae music and its culture when they started a fanzine called 'Live Good Today', for Augustus Pablo's organization Rockers International in 1980. The magazine grew and eventually became 'Reggae Quarterly'. As part of Beth's duties she took hundreds of photographs that captured the rise of Dancehall Culture.
Many of these pictures are now available to view at www.bethlesser.com where you'll find the artists like Gregory Isaacs, Eek a Mouse, Tenor Saw pictured in the streets, Sly Dunbar, Jah Thomas and Bunny Tom Tom at work in the studio, or in the case of Micheal Palmer and U Roy giving a live performance.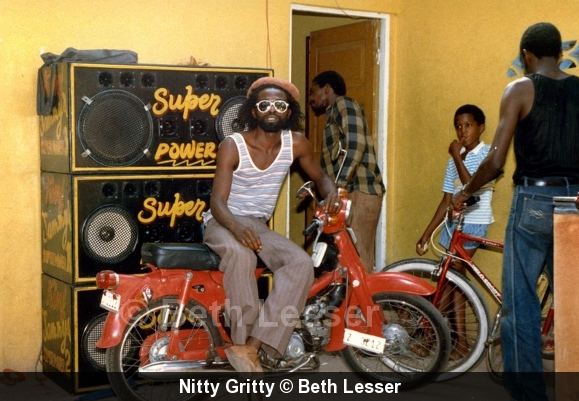 Many of her photographs have also been used by major reggae companies for album covers, like on VP's recent 'Henry Junjo Lawes Volcano Eruption Anthology' plus gracing the covers of books and magazines, Reggae Explosion, Natty Dread, Reggae Vibes and more from all over the world.
In addition to her photography she has also written books and was the first to write a biography on the producer "King Jammy" and the book depicting dancehall's story from its roots to its heights, "Dancehall, the Story of Jamaican Dancehall Culture" which was accompanied by the Soul Jazz Records album of the same name.
The site is well worth a look as there are some fascinating pictures to be seen and gives people a rare opportunity to dive directly in to the Jamaica of the 1980's for a feel of its fashions and colourful nature of the time.