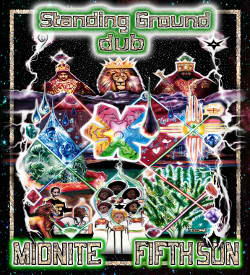 It's January so you know what that means! It means multiple releases from arguably the most active of entities in all of Reggae music, Vaughn Benjamin & Midnite. So, with 'Treasure', the latest vocal set from Benjamin, courtesy of Rastar Records, already in mind, Midnite's incredibly passionate fans now also can take a look at a bit of a 'blast from the past' as an older album, 2008's 'Standing Ground' from Fifth Son Records, now gets the dubbed out treatment.
The initial release was very much lauded, largely due to the fact that, with twenty-four tracks, it was a powerful two disc release which is rare even in Midnite's increasingly obese catalog. While the entire album isn't dubbed, more than half [thirteen tracks] are and for fans of Dub music, Midnite's music almost seems to inherently lend itself to Dub quite easily and 'Standing Ground' was clearly no exception.
So, fill free to stock up on Midnite this month because 'Standing Ground Dub' from Fifth Son Records is in stores now on CD and digital from Zojak Worldwide.