Following their excellent (if expensive on import) Caribou ska reissue You'll Never Know, Japanese connoisseurs' label Drum & Bass records has released a new 12".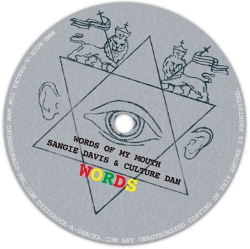 It features a modern deejay cut to the Gatherers immortal Words Of My Mouth by lead singer Sangie Davis and Culture Dan. The flipside contains Sangie's revisit of his group's hit and a version by the 12 Tribes band.
The label gave this history of the various elements of the release:
"The original cut of this superb Rasta anthem was produced by Lee Perry and recorded in 1973 by the Gatherers. In 2005 Gatherers lead vocalist Sangie Davis teamed up with 12 Tribes of Israel musicians to record this modern Roots reworking. In 2010, 12 Tribes bandmaster and Jah Love Muzik member Culture Dan cut this awesome DJ version, released now for the first time."
Beautifully produced and executed, Words Of My Mouth is out now at Dubvendor and other selected stores.