Trojan has just released a 2CD collection of some of the best-known works by Gregory Isaacs, one of Jamaican's smoothest vocalists who sadly passed away late last year. The set is titled 'Night Nurse' and highlights the Cool Ruler's rise from a virtual unknown to Reggae superstar by taking in an array of Seventies and Eighties Trojan and Island classics, a number of which make their Universal debut.
Also out is the next instalment of the popular limited edition 7" range of Ska, Rock Steady and Early Reggae tracks from the sixties and early seventies. This time the year is 1966, with the disc coupling some vintage Beverley's Rock Steady in the form of the previously unissued 'Dancing Time' by the legendary Desmond Dekker & the Aces featuring Roland Alphonso and the Beverley's All Stars' instrumental 'Beverley's Special' (aka 'Nothing For Nothing').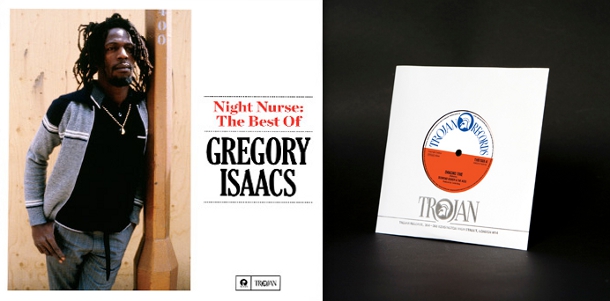 As with all previous titles in this series, the single is only available via the Trojan Store with each disc pressed on heavyweight vinyl, and presented in a hand numbered Trojan sleeve.
Visit the Trojan Store at Universal Music for more details.