After sewing up and delivering his the debut album for his cousin, Protoje, just a few weeks back, arguably the greatest Jamaican producer in the world today, Don Corleon is already back at work and with another big riddim release early in 2011, The Message Riddim.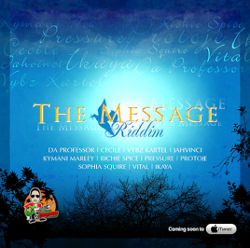 This gorgeous slower paced composition follows similarly vibed winners by the ace producer such as the Seasons, the Changes and more recently, last year's BIG Major & Minor Riddims and it leaves absolutely nothing to be desired.
Corleone chooses an excellent variety of artists to voice the Message. There're the more unexpected lights such as Ky-Mani Marley, Sophia Squire, Vital and Ikaya on hand - And on the other he grabs more of the 'usual suspects' on his output such as Bad Gyal Ce'Cile, VI Reggae star Pressure Busspipe, the aforementioned Protoje, Richie Spice and even Vybz Kartel. Unlike some of the other releases, the Message really has a direction to it and most of the songs here are on a more social/cultural vibes.
Although already in heavy rotation, fans across the globe can the latest from the real big man, Don Corleon, when it drops digitally later this month.