'Silly Little Things' is the title of the new release from Bristol based collective Dub From Atlantis, who have been playing and promoting all styles of reggae music in Bristol since the summer of 2000.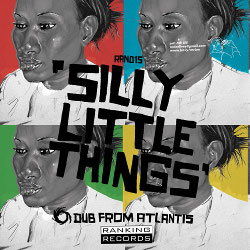 This digital release, on Ranking Records, consists of four versions of the song the first of which features Celestine applying a dreamy soulful vocal a top this melodious hybrid of organic and digi sounds. The second is a dub version with the saxophones of James Gardiner Bateman and Josh Archaleo given their chance to shine and expressing a style that harks back to that vintage studio one sound. Third up is a Cymatic remix produced by some of the most prolific and respected innovators in UK dance music Ruckspin, DLR, Quantum Soul and Chris Octane, as they take the songs breezy, jaunty riddim and flip it into a deep and ominous Dubstepper and back again. The final mix is from one of the new generation of Bristol producers Kähn, who applies more of a funky, 2- step shuffle, club vibe that caresses around Celestine's vocal so neatly that the two become one.
So one song and four mixes that show it in different lights, but all giving it respect and doing it justice fusing classic dub foundations with modern production twists. Available now on iTunes.