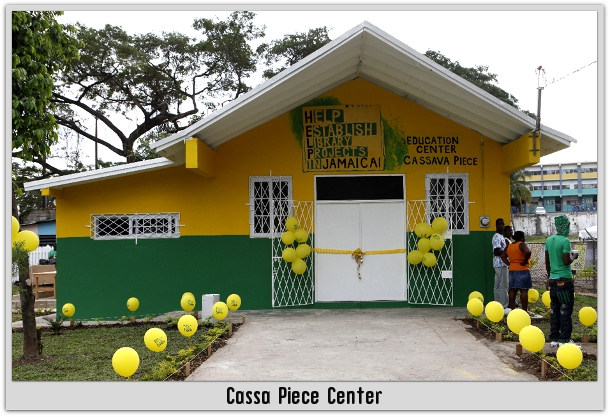 United Reggae has been a firm supporter of the HELP Jamaica! charity from the very start and now after two years of hard work they are proud to announce that on February 3rd their first Education Centre opened in Cassava Piece.
HELP Jamaica! stands for Help Establish Library Projects in Jamaica! and was establish in 2008/2009 as a non-profit and independent organization based in Germany and in Jamaica. The aim of the project is to give youngsters and adults alike the chance to broaden their minds and horizons not just through a modern and comprehensible collection books but also as a place where basic computer skills and the creative techniques necessary in a world dominated by modern media can be taught.
At the opening ceremony guests included The German Ambassador in Jamaica, Jürgen Engel whose country has been one of the major contributors to the fund for the reconstruction of the building with a grant of 1,2 million Jamaican Dollar (10.400,- €). The Jamaican Minister of Industry, Investment and Commerce the Honourable Karl Samuda also appeared and congratulated the organization and expressed how impressed he was with their achievements in the past year and a half since the idea of the project was first introduced to him. He lauded the progress and pledged his support especially since several attempts have been made to use the space occupied by the Centre for community activities.

Other Jamaican dignitaries present included Mr. Sydney Bartley, the Principal Director of Culture, who was representing Minister Olivia "Babsy" Grange along with Dr. Paulette Stewart the President of the Library & Information Association of Jamaica. Mr. Michael Lorne, Attorney-At-Law gave a keynote address on the relevance of the Education Centre, especially in a divided and marginalized community like Cassava Piece.
The day was not just about speeches and promises of support as "Rising Star" Romain Virgo gave a poignant performance along with local performer and this years second placed "Rising Star" Camaley. There was also an appearance by the Subkonshens Music Label artist Darrio and all three encouraged the youths to leave violence and negativity behind and focus on their education.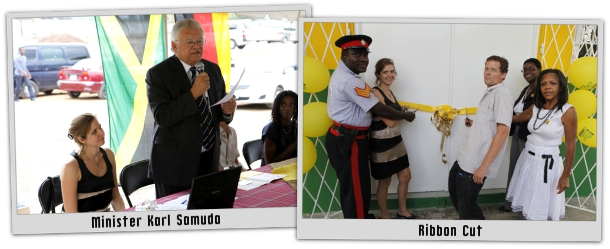 After all the formalities and the ribbons were cut guests and speakers along with about 200 kids were invited into the building where they saw at first hand the already impressive collection of books and computers supplied by "Food for the Poor" plus the designated Tiny Tots and the homework areas.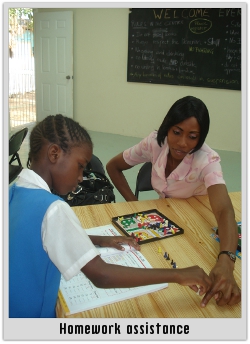 To keep people entertained throughout the afternoon there were many various activities for the children like a bounce-about, mural painting and a great performance and drum class for the kids by the powerful and energetic Kingston Drummers.
In all it was reported that it was a great opening day for the centre and one in which chief librarian and project manager Fernette Williams shared her vision of this community library being seen as a central institution for the development of individual citizens as well as the community.