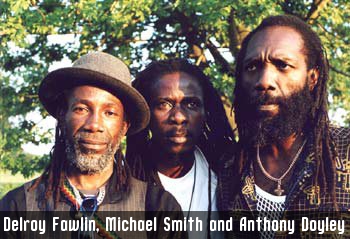 It is with great sadness that United Reggae reports the passing of yet another fine roots reggae artist Anthony Doyley, who died on Saturday 26th February 2011 in London at the age of 55.
Anthony was one of the founding members and lead singer, songwriter of the group Knowledge. They formed in 1974 and included vocalists Delroy Fawlin, Earl MacFarlane and Michael Samuels plus guitarist Michael Smith.
Their early work was with the artist/producer Tappa Zukie, who looked on them as his protégés and after releasing a number of hits through Zukie's Stars label they signed to the major label A&M in 1978 where they released 'Hail Dread'. They also worked with producer Roy Cousin that released the great 'Stumbling Block' but the band unfortunately did not find the same significant commercial success as some of their peers and soon slipped back into relative anonymity.
Photos by Nicolas Maslowski / Makasound