There has been scarce with releases from the great reissue label Pressure Sounds lately. This has caused some rumors that the label might be folding.
But Pressure Sounds is still alive and kicking. Some weeks ago they launched their new website and mp3 shop. And now they have a new release scheduled.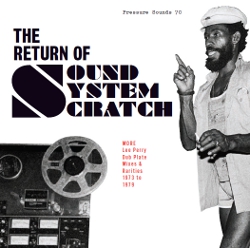 'The Return of Sound System Scratch – More Lee Perry Dub Plate Mixes and Rarities 1973-1979' is a new compilation ready to hit the streets in early April – from the label – and late April, from other vendors.
The compilation includes 18 tunes, where of two are previously unreleased. The majority of the tracks is exclusive dub plate mixes and follows in the same footsteps as last year's 'Sound System Scratch'.
This is the fifth release from Pressure Sounds that is dedicated to the works of Lee Perry and if you don't already own 'Divine Madness', 'Voodooism' and 'Produced & Directed by the Upsetter' you should definitely upgrade your record collection.