It would appear that this year is going to see the return of the King Tubby's Tempo riddim, made famous by Anthony Red Rose in 1985, in a big way, for following on from the recent re-release of 'Tempo Explosion' French production house Livity Reggae are releasing two 7" vinyl's that showcase the old and new of this classic riddim.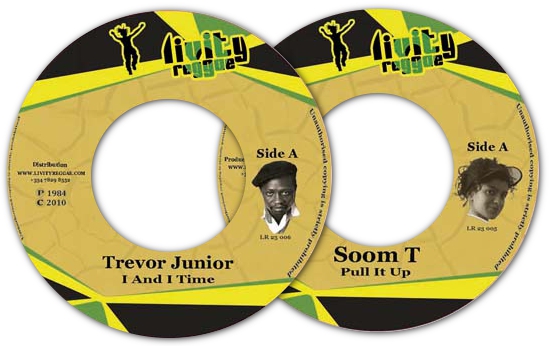 The first of these releases is the new and features Soom T, the Scottish singer who is a big favourite with the Mungo's Hi Fi and Jahtari sound systems and is titled Pull It Up. Here the riddim has been reconstructed by Marshall Neeko (Rise Up Show/VI Connexion – Lyon / France) and given a fresh new slant but still retaining great respect to the original.
The second release continues Livity's great repressing work with Little Kirk and Ackee as Trevor Junior's I And I Time, that was originally released via Black Roots in Jamaica and Up Tempo in the UK, is brought back to the life. Trevor was the brother of the late Lacksley Castell and his crystal clear rub a dub style, backed by the music of the Black Roots Players makes this big tune a real gem from the past.