Due for release on April 14th from the Scotch Bonnet label are two new 180g 12" vinyls and digital format rub-a-dub style EP's that have blended modern mixing and production techniques with some veteran artists to give it that classic feeling.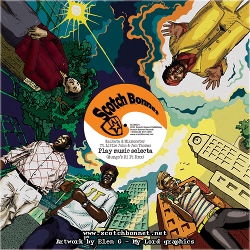 As you would expect both releases are heavy on the bass with the first EP featuring a remix from Mungo's of seasoned dancehall veterans Little John & Jah Thomas with Play Music Selecta and then an RSD cut of Little John's Sugar Plum Plum. Both vocal tracks were originally recorded in Jamaica for Kalbata and Mixmonster's fully analogue original Sugar Plum release on Soul Jazz and to complete the release there is also an RSD instrumental work out of Sugar Plum.
The second EP is solely Mungo's featuring the vocal talents of the late Sugar Minott with the hauntingly prophetic track Got To Make Tracks, voiced in Scotland shortly before his passing. Then there is Kingston 13's Lady Ann giving rough and tough ragamuffin chat to the love song Doctor Doctor while Israeli Ranking Levy adds a classic dancehall vibe in the style of Big Youth on New York Boogie before again the EP is topped off with an instrumental.
Also available now at Mixcloud to listen to is a live session recorded on January 28th at Nantes Dub Station in France from Mungos Hi Fi with vocalists Marina P, YT, Solo Banton and Kenny Knots. Although only recorded on an ambient mic the sound quality is pretty good and well worth checking out.