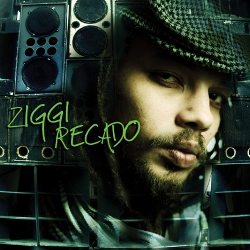 Rock 'N Vibes is set to release what is undeniably one of the most anticipated releases of 2011, the eponymous third studio album from Dutch Caribbean superstar, Ziggi Recado. Following his extremely well done and extremely well regarded 2008 project, 'In Transit', Ziggi has really become one of the bigger names on the European scene and arguably one of the most gifted in all of Reggae music across the globe. This time around he comes armed with big vibes and, as usual, a big group of guest artists as well.
Joining Ziggi on the new album are Jamaican superstar Roots Princess Etana, UK Dancehall veteran Tippa Irie, Omar Perry (Reggae veteran and son of the legendary Lee 'Scratch' Perry) and finally Rock 'N Vibes delivers 'This Year', a long awaited combination between its two biggest names, Ziggi and Maikal X. Also on board are Dutch Hip-Hop talents, which may signal a direction in the vibes of the album (or it may not).
Unsurprisingly, The Netherlands will get the very first taste of the new album as it is set to release regionally on April 15th (and is currently available for pre-order on Dutch iTunes) and in the rest of the world on June 6th.