If you want to make a splash in Reggae music the best thing you can do is ... Well, make good Reggae music. You can also find a very nice and interesting way to present that music to the masses and should you do both of those well, then you shouldn't have very much of a problem.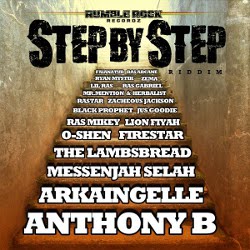 Rumble Rock Recordz isn't going to have "very much of a problem" at all. The latest creation of the Pennsylvania based label, the Step By Step Riddim, is an absolutely gorgeous Roots composition and the presentation? Apart from Anthony B, the roster of artists doing their respective bests on the SbS is full up of very talented vocalists who are only likely to be known by hardcore Reggae fans. Messenjah Selah, The Lambsbred, Arkaingelle, Zacheous Jackson, Zema and a most interesting group of others all appear on this sterling Roots set which may prove to be one of the best of this still very young year.
The Step By Step Riddim from Rumble Rock Recordz reaches stores on April 19.