The very promising and very well regarded native of Guinea, Takana Zion, is back on May 6 with his third album to date, 'Rasta Government', for Soulbeats Records. Previously, the youthful Zion established himself and made his name on the strength of a mighty pair of releases, his debut set 'Zion Prophet' from 2007 (which is probably one of the most discussed and popular debut albums from an African born artist ever) and 'Rappel A L'Ordre' from two years on.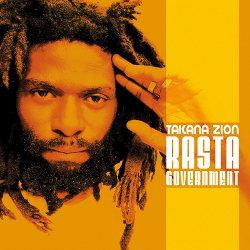 That work has placed his name mighty high because of that, fans across the globe are awaiting this new set.
A nice 'wrinkle' they'll find on 'Rasta Government' is that the vast majority of the album has been recorded in English, which will open the vibes of Takana Zion to an even wider group of fans. The album was reportedly constructed in Jamaica and perhaps because of that it should be to no surprise that its only combination features Zion alongside none other than Capleton!
Takana Zion's 'Rasta Government' - In stores on May 6.