The forthcoming 'To Your Majesty' is the latest release from one of the more hidden, but absolutely undeniable talents on the Virgin Islands Reggae scene, Danny I from out of St. Croix. The album, his third to date, is the second for the leading VI Reggae label, I Grade Records (who continues their awesome momentum from 2010, which featured albums from both NiyoRah and Toussaint), following 2007's 'Unchangeable', while his first, the most poignant 'Jah Fury', remains all but impossible to find.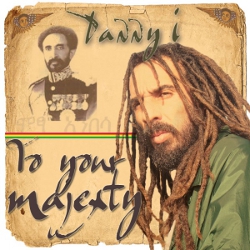 This album, like its predecessor on the label, figures to take full advantage of the wide scale of abilities from the gifted vocalist.
To help in that Danny I and I Grade tap a most interesting trio of collaborators - The up and coming Dushane. The mighty wordsmith, Sabbattical Ahdah (who appears on the very interesting 'Sometimish Rastaman') and one of the most popular artists from out of the VI, veteran singer Ras Army.
Danny I's 'To Your Majesty' is in stores on April 12.