Jahdan Blakkamoore - one of Brooklyn's finest reggae singers - dropped his sophomore album 'Babylon Nightmare' in December last year, to wide critical acclaim. The album included the sweet single All Comes Back to One.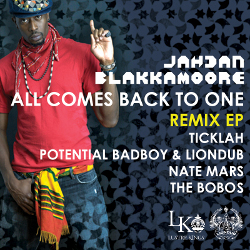 Now production crews Lustre Kings and LionDub International are releasing a remix EP of All Comes Back to One, which includes versions with influences from dubstep, drum & bass, one drop and nu-soul. The remix duties are handled by Nate Mars, Potential Badboy, LionDub, Nick Fantastic and Ticklah. The funky and soulful version BoBos Remix is available as free download. Check it here.
If that wasn't enough, DJ Theory has just put out the refreshing Quick Money for free download, a tune full of reggae, hip-hop and soul. It uses a sample from Amadou & Mariam's Sabali – also used by Nas & Damian Marley for the mellow Patience – and comes with a lethal soca version courtesy of So Shifty. Check both tunes here.