This months strictly limited deluxe Trojan 7" brings together two more Beverley's Records gems. The A side of this release is Easy Come, Easy Go by the Pioneers, which has been previously available on their 'Let Your Yeah Be Yeah (Anthology)' from 2002.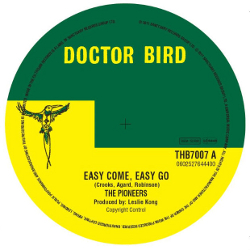 The song was recorded in a number of versions during the late Spring of 1968, but the trio and producer were not entirely happy with the session. They did however revisit the song a month or so later reworking it until confident they'd go it right and finally it was issued in the Autumn of that year. The song proved a big hit in Jamaica and provided the platform for further assaults on the Jamaican and overseas charts and most notably saw them have their best-selling hit Long Shot Kick De Bucket which peaked at #21 in the UK the following year.
On the B side of the single is an unissued Rock Steady version of Don Covay's R&B smash, Mercy, Mercy record as a duet by Derrick Morgan and Desmond Dekker. Why this was never issued is unknown, but needless to say this duos partnership proved disappointingly fleeting
Due out on the 11th of April and presented on the much-missed Doctor Bird imprint the single is now available to pre-order at the Trojan Store, with pressing strictly limited to just 400 copies.