The Firm and No Limit Promotions present Legends Easter Fete on Easter Sunday, April 24, 2011 at the Miramar Regional Park in Miramar, Florida. Showtime 2-10 PM.
This is a day for fun, music, food & culture bringing together the best of Jamaica's old and new in one venue.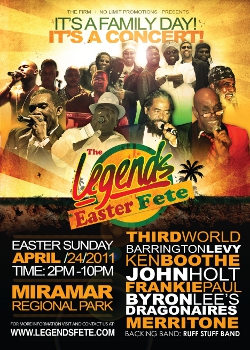 Hosting 4 events within the same venue, creates something for every age group. For the youngsters, a Kids Romping Zone with unlimited games, rides and face painting.
For the teens is Swagg Jamz Fete presented by 99 Jamz with music, dancing, games & Karaoke.
For the dancehall fans, the Bamboo Lawn Day Fete, with Rory of Stone Love, Renaissance, HMV Soundz, Sound Sweetness & Eccentrix Sound.
The legends performing are Third World, Barrington Levy, John Holt, Ken Boothe, Frankie Paul, backed by Ruff Stuff Band, Byron Lee & the Dragonaires and Merritone.
For booth & information call: 305 623 5078 begin_of_the_skype_highlighting 305 623 5078 end_of_the_skype_highlighting
To purchase tickets online log on to: www.legendsfete.com.