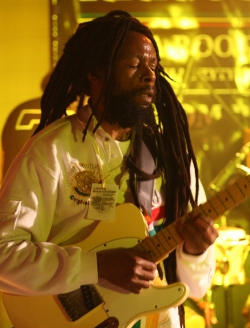 The Trench Town artist Errol Organs and his band the Trench Town Experience have announced a European tour.
And for extra drum power they will be bringing none other than the famous skins man and film star Leroy "Horsemouth" Wallace to sit at the traps.
Errol is a producer, arranger, composer and singer who has worked with Capleton and Anthony B.
Alpha Boys School pupil Horsemouth has drummed on some of the great roots records of the 1970s, played the lead role in the 1978 film Rockers and works with Groundation's side project Rockamovya.
So if you want to catch Errol and Horsemouth in action, the Trench Town experience will be stopping in the following places.
21 May - Attalens, Switzerland (Salle Communale)
27 May - Neuchâtel, Switzerland (Bar King)
3 June - Geneva, Switzerland (Chat Noir)
4 June - Czestochowa, Poland (Reggae day Festival)
17 June - Geneva, Switzerland (Fête de la musique)
2 July - Ruighoord, Holland (Future Reggae Ruighoord)
10 July - Gdansk, Poland (Festiwal Kultur Swiata)
15 July - Montreux, Switzerland (Montreux jazz festival)
16 July - Vallée de Joux, Switzerland (Back to the roots fest)
13 August - St-Julien, France (Come fam fest)