Rockaz MVMT presents a FREE Miami Reggae Festival, featuring an eclectic line up of international music genres. Over the course of the day, over 10,000 people will attend the concert at Peacock Park in Coconut Grove Miami.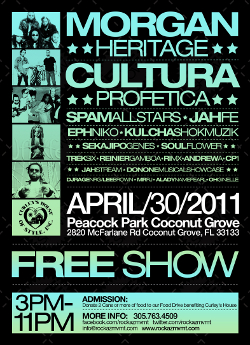 This highly anticipated cultural event was designed to cater to all genuine cultural expressions in a celebration of Peace, Love and Unity - building a positive spirit in our community.
Two cans or more of non-perishable food items is requested for admittance to feed the needy, proceeds benefiting Curley's House.
Artists performing include Morgan Heritage, Cultura Profetica, Bonnie Casey, Spam All Stars, Jahfe, Connis Vanterpool, Ephniko, Kulcha Shok Muzik, and more.
The concert is Saturday, April 30, 2011 2PM. To 11P at Peacock Park, Coconut Grove, 2820 McFarlane Rd. Miami, FL 33133.
Tickets are free but guests must register at http://miamireggaefestival.eventbrite.com
Or call the general hotline at (305) 763-4509.
For more information about the Miami Reggae Festival please visit www.rockazmvmt.com or www.facebook.com/rockazmvmt.