Chuck Fender, Luciano and Mathew McAnuff come together to provide the vocal work for the latest release from well the well regarded Own Mission Records from out of France - The very well done Roots set, the Time Riddim.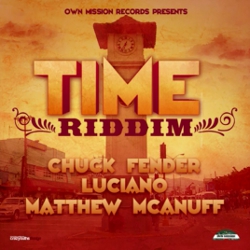 Previously, the same label pushed other fine compositions such as the Sun, the Bun Up and the Don't Know Riddims and more recently, they also brought us the Police Riddim. Chances are high [about 100% or so] that if you enjoyed the majority of those sets, the Time Riddim will also find a very comfortable place in your listening rotation.
You won't have to wait for it either. Own Mission Records' Time Riddim can currently be found on etailers across the globe and is set to release on physical 7' shortly.