The UCLA Jazz/Reggae Festival started with a one day Jazz Festival 25 years ago this year. We came to celebrate this festival every year on Memorial Day weekend with great artists and a community uniting atmosphere. It has been produced annually by a team of 30 unpaid students, who do a stunning and professional job. They also are very eco-friendly having proper recycling features throughout the venue's areas.
This year the festival has a major focus on art with interactive art installations, live art on a 360 degree canvas featuring renowned graffiti artists Man One and Teebs. Also, custom screen printed T-shirts will be available and a large outdoor gallery will be available for viewing and purchases. Of course, there will be a huge variety of food and crafts booths for the attendee's pleasure.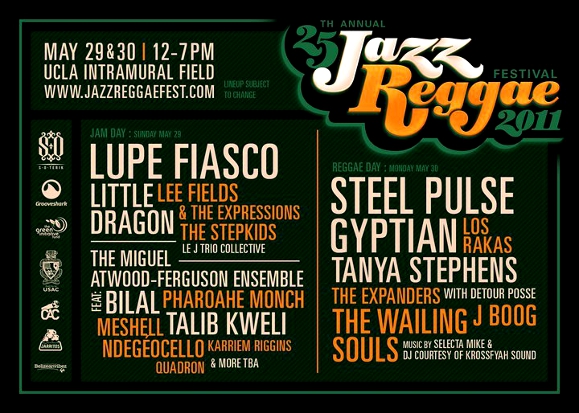 The festival performers on Jazz (Jam) Day are:
Lupe Fiasco, Talib Kweli, Bilal, Pharoahe Monch, Me'Shell Ndegeocello, Quadron and Karriem Riggins.
Festival performers on Reggae Day are:
Steel Pulse, Gyptian, Tanya Stephens, (Panamanian duo) Los Rakas, The Wailing Souls, The Expanders and Samoan artist J-Boog.
So…come on out and enjoy a beautiful holiday weekend at UCLA! Enjoy some wonderful music and buys some stuff!