You may remember the very nice New Day Riddim from just late last year which came via Trinidad based record label, JahLight Records and if you do remember it and remember it favourably, you'll probably take a special interest in the same label's first offering of 2011, the arguably even stronger Mount Zion I Riddim.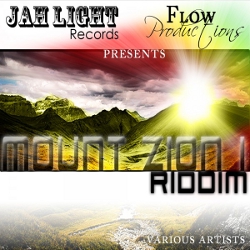 This composition does come with a bit of a 'twist' as it is the product of the hard work of not only JahLight, but Flow Production from out of Switzerland.
Just like its predecessor, the Mount Zion I Riddim features talents from out of Trinidad who, while they may not be very well known (yet), mostly deliver fine efforts. The standout tune, the title track, comes from the always impressive Zebulun and he's joined by the likes of veterans Dainjamental, Multi-Symptom, Reggae Gospel artist, Koen Duncan and the big voiced Roxy Singh.
Want to know more? Of course you do - The Mount Zion I Riddim from JahLight Records & Flow Production can be found in digital stores around the world on May 23.