After some lovers business with Chantelle Ernandez and the 'Love Directories' compilation, then roots and dub for his Gorilla rhythm, Curtis Lynch and his unstoppable deejaying machine Mr. Williamz have returned to the sounds for which they're known best.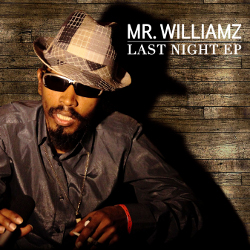 The five song EP 'Last Night' features the hypnotic style of Williamz atop some immortal bass-heavy backing tracks.
Topics include the joys of cash on Money Fi Spend (over the Real Rock). Shell Down is a sound burial combo with singer Clinton "Specialist" Moss (looping a phrase from the King Jammys classic Come Again by Cocoa Tea).
'Last Night' recounts an eventful evening using the original Treasure Isle rhythm to John Holt's Ali Baba – leased from Chris Peckings. And if you thought Mr Willz had the subject of herbs wrapped with No Cigarette (on the Joker Smoker) Ganja Smokin - using the Shank I Sheck - will make you think again.
Finally, there's a special mix of the previously released Real General on Lynch's remake of Super Cat's Come Down.
'Last Night' is available on iTunes on 17th May and on general release on 24th May.