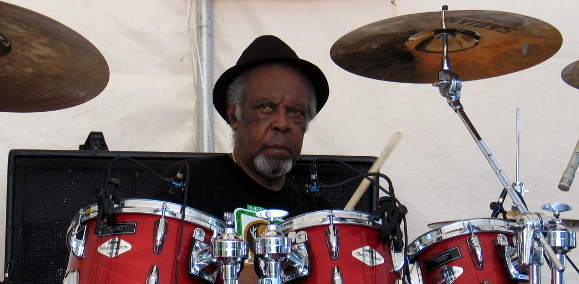 Lloyd Knibb – one the founding members of The Skatalites – passed away on Thursday May 12th at the age of 80, according to Jamaica Observer. He was The Skatalites' drummer and a key figure in creating ska together with other acclaimed band mates such as Roland Alphonso (tenor saxophone), Don Drummond (trombone) and Jackie Mittoo (piano).
The Skatalites backed nearly all of the major vocalists in the ska days, and also recorded a massive body of instrumentals, including Guns of Navarone, Eastern Standard Time and Latin Goes Ska.
After The Skatalites Lloyd Knibb went on and played with former band mate Tommy McCook in The Supersonics. This outfit became rocksteady producer Duke Reid's house band at his Treasure Isle studio, where they were responsible for backing Alton Ellis, Justin Hinds and a truck load of other soul styled singers.
Lloyd Knibb played a show as late as March and died of cancer of the liver. The only remaining original members of the 50 year old The Skatalites are bassist Lloyd Brevett and alto saxophonist Lester Sterling.