Dub Store Sound Inc, the official Studio One agency out of Japan is releasing a selection of 7" vynil reissues on the Federal Records' Kentone label that was one of the greatest Ska production houses in the mid 60's. This material is taken from Ska's heyday and features rare and previously unreleased material.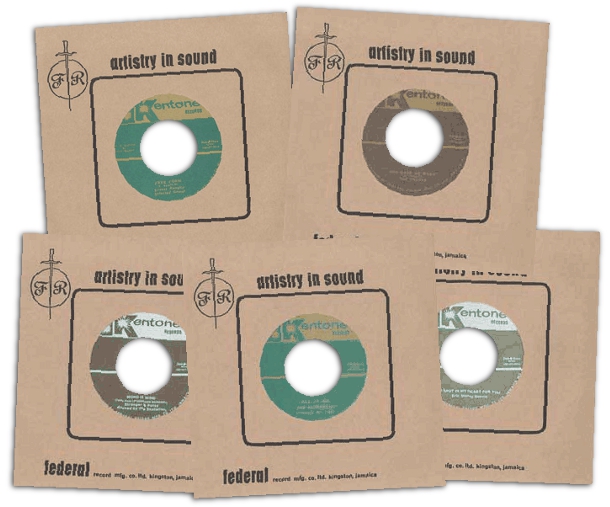 The first of these collectable 7's is the double A-sided single from Ernest Ranglin & Selected Group titled Free Form and Skalvouvia. Both songs are bright mid-tempo instrumental tracks with a jazzy feel and very strong trumpet and alto saxophone solos over Ernie's industrious lead guitar.
Next up are vocal group the Sharks (also spelled Sheiks) with a previously unreleased early acoustic cut You Made Me Warm on the A-side while the B-side is occupied by the more up-beat original cut.
Eric "Monty" Morris sings sufferers' protest song, Blackman Ska, which for the time was rather unusual in that it broke away from the usual songs about love, but he's back in that theme on the B-side for A Spot In My Heart For You. Both of these tracks have never been previously released and were reportedly recorded for the 1965 various artist album 'Jamaican Skarama' (reissued by Dub Store Records: LP/CD503) but never made the final cut.
The fourth single features unknown vocal group Monarchs & Drumbago All Stars with All Of Me on the A-side and Sneer Towners singing a previously unreleased version of You Say Me Say on the flip. Then last but by no means least is the final single featuring the classic male/female duo Stranger & Patsy with Word Is Wind backed by The Skatalites and a very smooth and soulful Dobby Dobson with Cry Another Cry.