Due for release on 16th of June, via Soul Jazz records, is a various 2CD / vinyl album compilation titled 'Invasion Of The Mysteron Killer Sounds'. The album, though not entirely a true reggae album it does feature music from some of the radical, pioneering, electronic, scientific,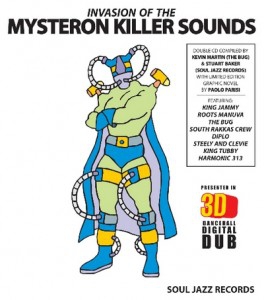 dub producers of the Jamaican digital dancehall revolution such as King Jammy, Steely and Clevie, Sly Dunbar, Prince Jazzbo, King Tubby, Dave Kelly and Firehouse Crew along with electronic and futurist artists of today Harmonic 313, Diplo, Roots Manuva, South Rakkas Crew and The Bug, who in collaboration with Stuart Baker of Soul Jazz Records has compiled this album.
These new digital producers have taken inspiration from these digital styles that exploded out of Kingston in the 1980s and blended them to create work that is contemporary, whether it is dubstep, acid, hip-hop, electronic but can still be linked back to what at the time was considered to be the revolutionary computer-based sounds that were coming out of Jamaica.
The 2CD initial release comes in bespoke, limited edition, card box packaging while the deluxe gatefold double album editions come on heavy weight vinyl. Both editions also come with a specially commissioned graphic science-fiction novel by the Italian comic book designer Paolo Parisi, whose books have included diverse subjects from John Coltrane to Chernobyl and tells the tale of what digital music will be in the future, featuring King Tubby, Steely and Clevie, Jammy, Jazzbo, along with Alien Sound Lord Abductors, Aural Freedom Fighters and Digi-Dub Voyagers.
The whole thing sounds very interesting and exciting and I'm sure 'Invasion of the Killer Mysteron Sounds' will be a must for any fan of Digital, Dancehall, and Dub, so if you'd like to pre-order the album to be sure of getting all the goodies go here.
Tracklisting for the album is as follows:
CD ONE - Compiled by Kevin Martin (The Bug)

1. Steely & Clevie - Streetsweeper
2. Lenky & Sly - Now Thing
3. Ricky Ranking fT. Roots Manuva - Doogoo Dub
4. Dave Kelly - The Return
5. Annex Crew - Summerbounce
6. Federation Sound - Flatlands (Brooklyn Dub Mix)
7. Lenky - Diwali
8. Team Shadatek - Yoga Riddim
9. Stereotyp ft. Alley Cat - Modern Times
10. The Grynch ft. Tippa Irie - Electro Agony in Dub
11. Fira Hummer Version
12. Diplo - Diplo Rhythm
13. Harmonic 313 - Bazooka Riddim
14. Ward 21 Productions - Pit Bull
15. Redlight - M.D.M.A.
16. The Bug - Aktion Dub

CD TWO (Compiled by Stuart Baker (Soul Jazz Records)

1. Fat Eyes - Clothes Pin Rhythm
2. Steven Ventura 4 - Kings of Kings Throw Your Hands Up version
3. Sly Dunbar and Christopher Birch - Corners Boy
4. David Jahson - King of Kings Dub
5. Fat Eyes - Steel Plate
6. South Rakkas Crew - Red Alert
7. Parara and McCoy - Them Can't Hold Yuh Gal version
8. King Tubby - Fat Thing version
9. World Beat - Gold Mine
10. Andre 'Suku' Gray - (Jammys) Sign Rhythm
11. Henfield and Shadowman - Babatunde
12. Firehouse Crew - No False Hair
13. Computer Paul - World Talk
14. Fat Eyes - Overdose
15. Prince Jazzbo - Great Stone version
16. Kickin' Productions - What You Gonna Do
17. Pliers (Bonner Productions) - I'm Your Man Dub
18. Wiz Kidz Team - In My Heart version
19. Jammys 'Jam 2' James - Peenie Peenie