Cool things are going on at the well reputed IrieVibrations Records in 2011 and they've just gotten a bit sweeter. Besides a big forthcoming project from Reggae legend, Luciano, in the form of the 'Rub A Dub Market' album, as well as reported pieces from both Anthony B and Konshens, the Austrian based imprint is also pushing an album for their Sweet Baby Riddim.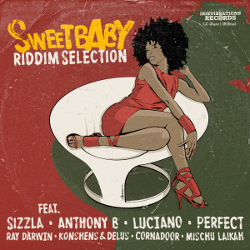 This laid back, predominately Roots set proves to be quietly infectious and should find a very fine audience amongst Reggae fans, both initiated and new alike.
Certainly tapping names such as the aforementioned Luciano, Anthony B and Konshens [alongside Delus] to voice the composition will only help matters and if that does quite get your attention, then perhaps efforts from the likes of Sizzla Kalonji, Perfect or Dutch songstress, Mischu Laikah, will.
IrieVibrations' Sweet Baby Riddim Selection is set to hit digital stores around the world on June 17th.