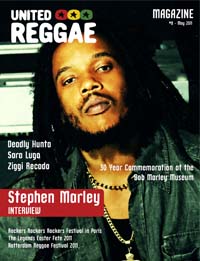 You can now enjoy the free pdf version packed with most of United Reggae content from May.
Leaf through or download it now!
In this eighth issue, you will find interviews from Stephen Marley, Ziggi Recado, Deadly Hunta and Sara Lugo, photos from Steel Pulse, Ziggy Marley, Yellowman, Bob Marley Museum, Gentleman, The Congos, The Abyssinians, The Legends Easter Fete, Rockers Rockers Rockers festival, albums reviews and news about Danny I, Earl Zero, Talisman, Takana Zion, Cocoa Tea, Alborosie and many more.
The magazine can be read online or downloaded for free. And you can now also get a paper copy. Details here.