Heartical is originally a French sound that started in 1999, and has since played all over the globe. They have clashed against, and juggled with, some of the biggest sounds in Europe and Jamaica, including Killamanjaro from Jamaica, Massive B from the U.S. and Supersonic from Germany.
In 2001 the crew launched their label aimed at releasing old school roots music. To date over 50 titles have been released on vinyl and digital download.
As a ten year celebration Heartical is now set to put out its first official compilation featuring an impressive line of artists. Most of them reggae legends like Johnny Osbourne, Little Roy and the late Sugar Minott and Alton Ellis, who sings Peaceful Valley over the Ministerio del Dub riddim, which must have been one of his last recordings.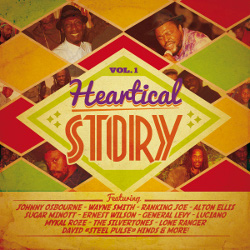 'Heartical Story' compiles 20 tunes – 17 vocals and three instrumentals – built on eight riddims from BDF (Basque Dub Foundation). Most riddims are relicks of classics such as Derrick Harriott's pulsating Tonight, Glen Brown's haunting Slaving and Studio One's Far East or the rolling Real Rock.
The compilation is a minor chord celebration in a foundation style. This is roots music as it was meant to be. Just listen to Lone Ranger in Original Style. It's the chatting Ranger with his ribbiting and oinking against the riddim led by an apocalyptic organ.
Now available as digital download and on CD on June 6th.
'Heartical Story' shows that none of these foundational artists have lost their flow. They sound just as fresh in the 2000's as they did in the 70's and 80's.
1. SUGAR MINOTT "Righteous tradition" (Ministerio Del Dub riddim)
2. ALTON ELLIS "Peaceful Valley" (Ministerio Del Dub riddim)
3. LITTLE ROY "Only Jah" (Slaving Riddim)
4. LONE RANGER "Original Style" (Slaving riddim)
5. SILVERTONES "Poverty" (Tonight Riddim)
6. DAVID "STEEL PULSE" HINDS "Positivity" (Tonight Riddim)
7. CHRONICLE "Sweet Sensimillia" (Far East Riddim)
8. RANKING JOE "Rastaman talk" (Far East Riddim)
9. ERNEST WILSON & KOJAK "True love" (Know Myself Riddim)
10. JOSEPH COTTON "Gone clear" (Know Myself Riddim)
11. ANTHONY JOHNSON "Gunshot Rock" (Real Rock Riddim)
12. JOHNNY OSBOURNE & WAYNE SMITH "Conscious Anthem" (Real Rock Riddim)
13. LUCIANO "Time Will Tell" (Promised Land Riddim)
14. GENERAL LEVY "Time dread" (Promised Land Riddim)
15. MYKAL ROSE "Never Surrender" (Fade Away Riddim)
16. QUEEN OMEGA "Shining light" (Fade Away Riddim)
17. BDF "Midnight Organ" (Tonight Riddim)
18. BDF "Melodica Knowledge" (Know Myself Riddim)
19. BDF "Far East Organ" (Far East Riddim)
20. SUGAR MINOTT "Righteous Special" (Ministerio Del Dub Riddim)