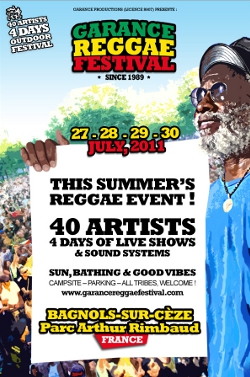 Along with the addition of The Abyssinians, Queen Ifrica, Tony Rebel plus Junior Reid & Sly & Robbie, announced soon after we originally brought you news of the Garance Reggae Festival another host of new acts have been confirmed to appear at the French event which takes place from 27th till 30th July 2011 in Bagnols-sur-Cèze.
These additional acts are, on the Wednesday night in Dub Station Corner Swiss based outfit Lion Youth who have been influenced by the Channel One Sound System, Jah Shaka and Aba Shanti I plus French crew Steppin Forward and fellow country man the DJ, composer T.i.T. who is growing something of reputation in the dub community with his experimentation of mixing psychedelic breakbeat and dub which has led to his work being played by the likes of Iration Steppas, Blackboard Jungle and LFO.
Thursday will see the arrival of Ken Boothe on the Main Stage along with the UK artist Natty who released the EP 'Things I've Done' last year.
Junior Kelly and the Senegalese performer Kayamanga, who communicates his vision of Africa and its richness of culture and traditions through a gallery of poetic verse are added to the roster on Friday, while Saturday sees the appearance of "crossover" sensation Gyptian. Also on the bill that night and flying the flag for the Virgin Islands scene is Pressure, who will hopefully be showcasing some of his new material from his forthcoming album with producer Don Corleon due out some time in the autumn. Another artist appearing on Saturday who has also tasted success with Corleon is his cousin Protoje, who released the much lauded album 'The Seven Year Itch', last year.
Completing the list of new acts appearing at the festival is one of the most prolific engineers and producers out of England Gussie P, who will be on at Dub Station Corner. His career started in the early '80s and in that time he has worked with the likes of Mafia & Fluxy, Fred Locks, Michael Prophet, Cutty Ranks, Earl 16 and Capleton. Here though he will be on stage with Prince Livijah, who has worked with host of labels and sound systems but is now at Reality Shock, where he is preparing an album.
WEDNESDAY 27 JULY
BURNING SPEAR / KING STITT / DILLINGER / DAWN PENN
WILLI WILLIAMS / PRINCE JAZZBO / LONE RANGER
WINSTON FRANCIS / ALPHEUS / JIM BROWN
CARLTON LIVINGSTON / SOUL STERO
STEPPIN FORWARD / T.I.T / LION YOUTH
OBF / BLACKBOARD JUNGLE
THURSDAY 28 JULY
JIMMY CLIFF / MIDNITE
SLY & ROBBIE FEAT JUNIOR REID / KEN BOOTHE
CLINTON FEARON / NATTY
CARL MEEKS / SANDEENO / JAHTARI
OBF / BLACKBOARD JUNGLE
FRIDAY 29 JULY
TIKEN JAH FAKOLY / THIRD WORLD
TWINKLE BROHTERS / JOHNNY CLARKE / HORACE ANDY
JUNIOR KELLY / KAYAMANGA
JAH SHAKA / KING JAMMY'S LIVE SET
OBF / BLACKBOARD JUNGLE
SATURDAY 30 JULY
GYPTIAN / THE ABYSSINIANS
DANAKIL / QUEEN IFRICA / LUTAN FYAH
TONY REBEL / PRESSURE / PROTOJE
IRATION STEPPAS FEAT MAKI BANTON & YT
GUSSIE P FEAT PRINCE LIVIJAH / HUGHIE IZACHAAR
OBF / BLACKBOARD JUNGLE