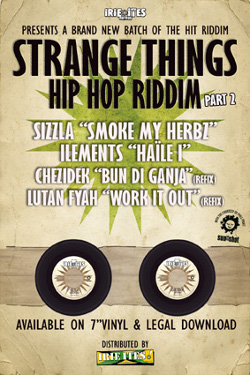 Veteran French label and production crew Irie Ites has recently put out four new cuts on their bouncy Strange Things Hip-Hop riddim.
The original version was produced by Phil Pratt and had John Holt on vocals.
Irie Ites first version was issued in late 2009 and was soon followed by a hip-hop remix. Both versions were voiced by artists such as Junior Kelly, Pressure and veteran deejay Trinity.
Now Irie Ites has voiced Sizzla and French singjay Ilements on Strange Things Hip-Hop and also remixed Lutan Fyah's Work it Out and Chezidek's wicked ganja anthem Bun di Ganja.
The new cuts now are available on vinyl and soon on digital platforms.