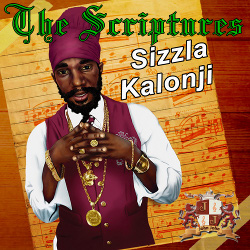 Big big news this week as Reggae legend, Sizzla Kalonji, is set to return with a brand new album for the masses, 'The Scriptures'. The suddenly much anticipated release is the very first official album from the once incredibly album-active chanter to reach since 'Crucial Times' arrived in January of 2010 and it offers more than just making up for lost times. 'The Scriptures' is produced by Lloyd 'John John' James Jr. who, although making his first full length set with the fiery performer, is no stranger to working with Sizzla as the two previously worked together on many big singles, including several which appeared on 2006's underrated 'Waterhouse Redemption' album which has helmed by John John's father, the legendary King Jammy.
This album is a real winner and features tunes certain to grasp the attention of listeners such as the title track, the previous hit, Music In My Soul, across the Zion Gate Riddim, What A Whoa and others.
The wait for the new album from Sizzla Kalonji is nearly over as 'The Scriptures' arrives in digital stores on June 14 courtesy of Zojak Worldwide and can be found only a week later on CD exclusively at Ernie B's Reggae.