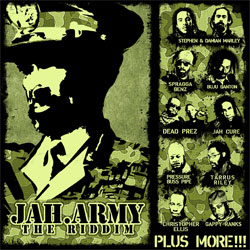 The latest release from Ghetto Youths International, the Jah Army Riddim, is not only likely to be one of the bigger compositions of 2011, but it's easily one of the most interesting as well. Of course, being a bite from the Marley clan, it's going to get a bit of an extra shine, but in this case, it doesn't need the help at all. The composition is actually a reanimation of the classic General Penitentiary Riddim and it's blessed by a tune from the Marleys, Stephen & Damian who link up for the title track alongside the infamous Buju Banton, which also features prominently on the former's recent album, 'Revelation Pt. 1: The Root of Life'.
But that's not all - That loaded track is joined by efforts from the likes of Chris Ellis [son of Alton], Tarrus Riley, Jah Cure, Marley regular, Spragga Benz, even Pressure Busspipe and others.
The Jah Army Riddim is up and available for your digital consumption right now. Fans of Roots Reggae, new and old alike are sure to find something to enjoy within.