Roots Tribe Records has announced its 10th release. It's a showcase album where Slimmah Sound teams up with Lyrical Benjie, resident singer for the acclaimed King Shiloh sound system that hails from the Netherlands.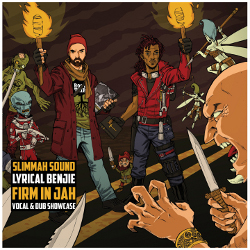 Their previous collaborations have proven fruitful. And the new album – 'Firm in Jah' – will probably follow in the same path.
The album contains five vocals followed by five dub versions. The production is handled by multi-faceted musician Tim Baumgarten.
The pair started working together in 2008 and the first releases were the wicked Sit n Wonda and Girl Don't Trust the World 7" singles. The former is also available on the 'Love Jah More' showcase album.
'Firm in Jah' will be available on CD, vinyl and digital download on July 1st.