After the phenomenal success of London's first International Ska Festival in over twenty years it has been announced that the event will take place again next year over the weekend of 3rd -6th May.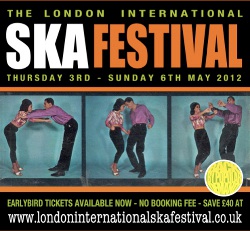 2012's 4 night festival is to be held across 3 venues The Brixton Academy, The Sheperds Bush Empire and The Islington Academy and promoter Sean Flowerdew has just announced the first 2 bands that will be appearing.
First up is one of 2 Tone's greatest musicians and writers Noel Davies of the The Selecter who'll be appearing with his new ten piece band to perform some of The Selecter's classic hits like 3 Minute Hero, Missing Words and Too Much Pressure plus new material that is said will bring the 2 Tone style and passion into the 21st century. Also confirmed are another English band and one of the highlights of this year's show, the Hotknives, who just missed out on the 2-Tone explosion when they formed in 1982 and are renowned for their wry lyrical accounts of everyday life.
Earlybird tickets are on sale now from www.londoninternationalskafestival.co.uk/tickets/ with the first 100 x 4 day tickets at a discounted price of £99.99 plus no booking fee, saving you a whopping £40.