Sugar Black and Dylan Judah, collectively known as Black Judah are set to release their much anticipated and environmentally conscious EP set, 'California Green' which features the well respected [and quite popular] duo not only delivering their typically impressive blend of Roots Reggae and Hip-Hop, but doing so while keeping some big company.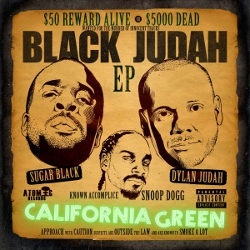 In just seven tracks, the pair manages to link up with Jamaican Reggae stars Anthony B and Warrior King and also legendarily 'green' rapper, Snoop Dogg, on the project's title track.
Black Judah has amassed quite the large fan base and one would imagine [correctly] that while they continue to wait for the full album, this release would find a very comfortable home on the players of both Reggae and Hip-Hop fans. We won't have to wait too long to find out either as their new EP, 'California Green' reaches digital stores on June 28, courtesy of Atomic Records & Zojak Worldwide.