A new ska, rocksteady and reggae label is on its way from one of the UK's longest running independents Cherry Red Records who were founded in 1978.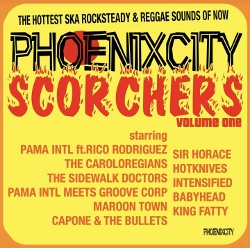 This new subsidiary label named after one of the Skatalites biggest hits, Phoenix City, is to be run by Sean Flowerdew the keys man behind bands Pama International, The Loafers and proprietor of the Rockers Revolt label. The aim of the label will be to release the finest in ska, rocksteady and reggae from around the world, from classic reissues to the best new sounds around.
The label launches in August 2011 with a series of previously unreleased digital releases from The Caroloregians, the original King Fatty featuring members from Big Boss Man, The Bongolian & The Loafers, Intensified, The Sidewalk Doctors, plus reissues from Pama International and Capone & The Bullets. August will also see the first of what will be a series of monthly samplers 'Phoenix City Scorchers' showcasing some of the hottest ska, rocksteady & reggae sounds of now, with Volume One including previously unreleased material from Sir Horace Panter of The Specials.
With the launch date not that far away the label is at present still looking for new and established acts to sign, so if you represent a band/solo artist in the fields of ska, reggae, rocksteady, dub or even soul then send an email to sean@pamainternational.co.uk with a mp3 or weblink to your music.
Also Due to Sean's commitments to this new label and his work with organising The London International Ska Festival, it does mean that the Rockers Revolt label which he started around three years ago and brought out some fine releases in its time from the likes of Ed Rome, The Slackers and Mungos Hi Fi will be slowly wound up and as such they are holding a closing down sale with prices starting from as little as prices starting at £0.01p, so visit www.rockersrevolt.com/ while stocks last.