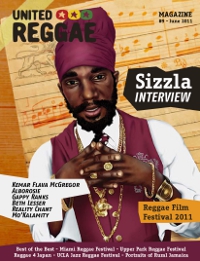 You can now enjoy the free pdf version packed with most of United Reggae content from June.
Leaf through or download it now!
In this ninth issue, you will find interviews from Sizzla, Flava McGregor, Gappy Ranks, Alborosie, Beth Lesser, Reality Chant and Mo'Kalamity, photos Best Of The Best, UCLA azz Regage Festival, Upper Park Reggae Festival, Reggae 4 Japan, Black Roots, Protoje, Rural Jamaica, albums reviews and news about Stephen Marley, Ras Zacharri, Gregory Isaacs, J Boog, Don Corleon, Perfect, Warrior King, Rototom Sunsplash Festival and many more.
The magazine can be read online or downloaded for free. And you can now also get a paper copy. Details here.