The 10th single in Trojans strictly limited edition range is to be the catchy little dance number 'You Are the One' performed by Caltone regulars, (Max) Romeo & the Emotions flipped with Phil Pratt's 'Girls Like Dirt'.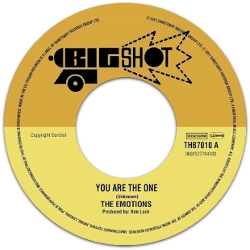 Both of these tunes are taken from the early summer of '68, when Jamaican musical tastes were starting to change from the lilting sound of Rock Steady to the more rugged style that would eventually morph into the world recognised genre of Reggae. It was also the time when respected label owner Blondel Calnek aka Ken Lack was slowing down the issuing material with just occasional sessions, primarily overseen by either Bunny Lee or Phil Pratt producing a number of fine, if commercially unsuccessful 45s and it is from one of these sessions, before Lack finally locked up shop and emigrated to the United States, that these two cuts come and finally get a first official UK release after more than four decades.
The single, pressed on high quality vinyl and bearing the celebrated Big Shot imprint, is strictly limited to a run of 400 so visit the Trojan store before they run out!