Out now on 10" vinyl is The River Niger Riddim, a mighty slice of modern roots reggae from Roots Hitek Music of Feltham, Middlesex, England.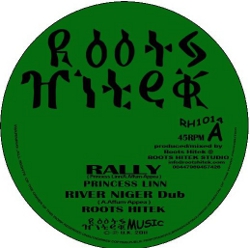 To add vocals to it they have teamed up once again with Princess Linn, the former member of the Royal Rasses camp that worked extensively with Prince Lincoln Thompson, to deliver the uniting anthem Rally. The other vocal cut on the riddim 'Lift Up' is courtesy of Murray Man, who owns and runs the Mellow Vibes Music Company in Birmingham. A very prolific artist and producer in his own rights this is just one of a number of songs he has done with Roots Hitek music.
Also available is a dub of the riddim plus River Niger Horns from Digistep the multi talented saxophonist and musician who produces for the Dubkasm label and can be found here supplying tenor sax and flute.