Anyone who has missed the sounds of South London's Soothsayers since their 2009 third album 'One More Reason' and its 2010 companion 'Red Earth Dub' will have been cheered by two uploads on their Soundcloud this year. First came the deep roots vocal Hard Times, performed live and released, in dub form, on the last longplayer,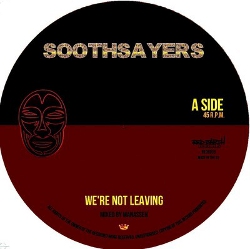 followed by the poignant ballad We're Not Leaving - their most touching slow number since their Mellow Baku collaboration Hold On. Now We're Not Leaving is due for official 7" release backed with a special mix by Manasseh (a member of 'Sayers Red Earth Collective band in all but name) featuring the voice of none other than Cornel Campbell in dub.
Recorded at Prince Fatty's studio in Brighton with the flipside cut at Bunny Lee's base in Kingston, We're Not Leaving is out on August 1st and for download on August 15th. A extended version of Cornel's piece will be released on 12" in late September (plus recordings with Lutan Fyah and Earl 16) with a full album coming in 2012...