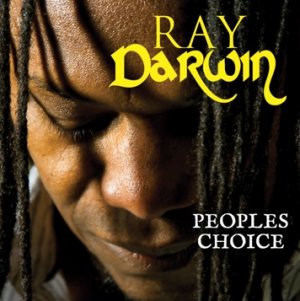 Better late than never! A few years back, the sensational Ray Darwin made his presence known on one of the highest levels of Reggae music via his huge breakout hit tune, People's Choice and it was at least presumed that an album would be forthcoming - And it was true... Oddly enough, however, it's taken a few years to manifest, but now Darwin releases to the masses his fittingly titled album, 'People's Choice', via Joe Fraser Records. Even in a delayed fashion, the album figures to be very well received by many of the same fans who caught on to the big single, particularly given the fact that Joe Fraser is known as a label specializing in a very healthy brand and blend of old school Lover's Rock and Roots music, which is Darwin's specialty. Unsurprisingly the album is sprinkled with recognizable classic riddims which push Darwin in a fine direction.
Also recognizable is the duo of guest artists with which Ray Darwin collaborates on the album - The venerable Fred Locks chimes in on the anthem-like In This Time and the incomparable and the wonderful German star, Sara Lugo beautifies the sublime Good For You.
The wait is over! After four years or so of waiting, Ray Darwin's album, 'People's Choice,' is in stores now on CD and for digital download, courtesy of Zojak Worldwide.